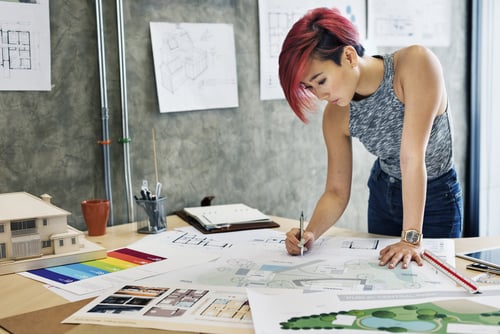 About
Interior Design
Interior designers know how to transform spaces into places: they work in both commercial and residential settings to make spaces functional, safe, sustainable and visually pleasing to the people who inhabit them. Smart interior design can be used to enhance workplace collaboration or improve patient outcomes in healthcare settings, for example, along with a wide range of other potentially powerful effects on health, well-being and behaviour.
Interior designers are trained to understand the principles of design, space planning, colour theory and materials selection. They should be creative problem-solvers who enjoy working with clients, for whom they can develop unique design solutions. They should be spatially oriented, and able to analyze and prioritize competing goals like function, flow, storage and organization while creating visually appealing spaces to match clients' (and potentially architects') style, taste and personality.
In Canada, the interior design profession is regulated in most provinces and territories. To become a licensed or registered interior designer, you will need to complete an interior design program from a recognized college or university. The Council for Interior Design Accreditation (CIDA) sets educational standards for interior design programs in North America, and many Canadian interior design programs are accredited by CIDA.
Interior design programs typically take 2-4 years to complete and result in a diploma, certificate, or degree. Some programs may also require an internship or work experience component. Additionally, many Canadian provinces and territories require interior designers to pass the National Council for Interior Design Qualification (NCIDQ) exam to become licensed or registered to practice. There are also several certifications that interior designers can acquire that provide specific training in the impact of interior design on the environment, like WELL certification, which is provided by the International WELL Building Institute.
The average annual salary for an interior designer in Canada is $52,524, according to PayScale. More experienced designers can expect $70,000 annually, with more senior interior designers, and interior designers who run their own businesses, enjoying significantly greater earning potential.