featured

Tuition

$2,723

Scholarships available

Tuition

$2,721

Scholarships available

Tuition

$2,825

Scholarships available

Tuition

$2,828

Scholarships available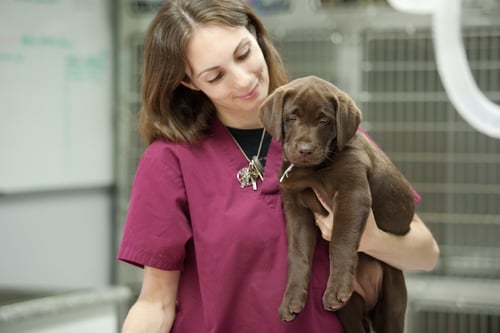 About
Veterinary Assistant
Veterinary Assistants are the backbones of veterinary healthcare teams, helping to provide basic care to animals while assisting with key administrative tasks, usually at veterinary hospitals or clinics.
Common responsibilities include administering medications under the supervision of a veterinarian, feeding and exercising animals, preparing and sterilizing equipment and assisting with surgeries and examinations — all in addition to updating medical records, scheduling appointments and communicating with clients. This hybrid healthcare-business role is ideal for animal lovers who want variety and versatility in an in-demand profession.
Veterinary Assistants do not require formal education, but many employers prefer candidates who have completed a veterinary assistant program or have relevant experience in animal care. These programs typically cover topics such as animal anatomy and physiology, veterinary office procedures, animal handling techniques and medical terminology, among others.
Earnings for Veterinary Assistants in Canada vary depending on location, experience and the size of the facility in which they work. Salaries according to the Canada Job Bank range from $15 per hour to $28 per hour on average, with Veterinary Assistants in Alberta earning the highest average hourly rate at $35 per hour, or $72,800 per year.