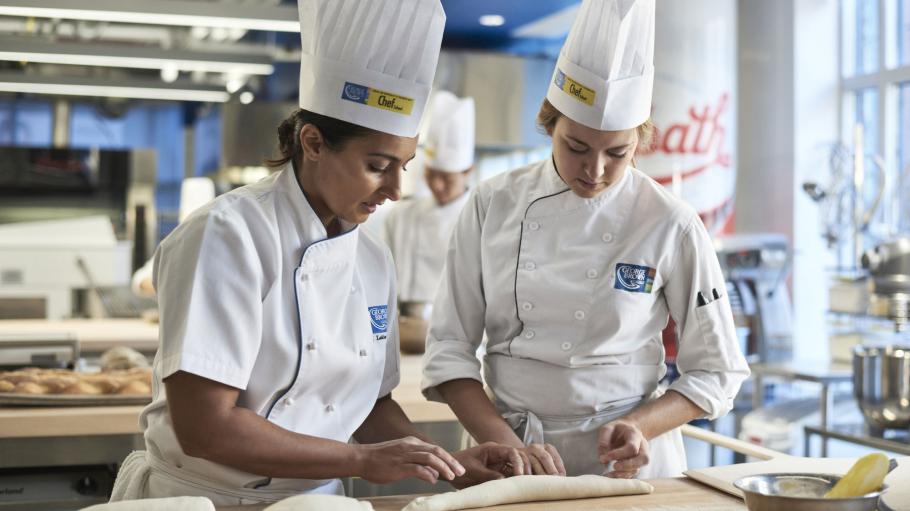 As the largest program of its kind in the country, George Brown offers an equally diverse range of certificate, diploma, degree, and postgraduate programs. Among this school's strengths are its location in the heart of downtown Toronto, near some of the best restaurants and hotels in the country, and a long list of accomplished alumni including Mark McKewan, Jamie Kennedy, and Roger Mooking.
Despite a below-average graduation rate, and a job placement rate of 71 per cent, which is lower than many other leading programs in Canada, George Brown Chef School students and employers rave about the school, catapulting it to a coveted top spot in our rankings.
What Students Are Saying
"I did an ONLINE cooking class during the pandemic with prof Jason Inniss. I left not only a much better cook but also inspired by food and the role it plays in our culture. Inniss lives on an organic farm with his family and was enthusiastic and so, so knowledgable. I can't recommend this class enough. "

Bernadette Leung, Culinary Skills
Popular Programs
In addition to first-in-Canada programs like the four-year Honours Bachelor of Food Studies Degree and four-year Culinary Management Honours Bachelor Degree, George Brown's Chef School offers a wide range of other hands-on programs from Cook Apprentice to Advanced French Patisserie. Commensurate with its location at the centre of Canada's culinary scene, the school boasts state-of-the-art facilities, including bar and wine labs, computer labs equipped with the latest industry software, and several public-facing eateries including the Chefs' House, a fine dining restaurant staffed by students under the guidance of a professional instruction team.
Locations
Toronto, Ontario