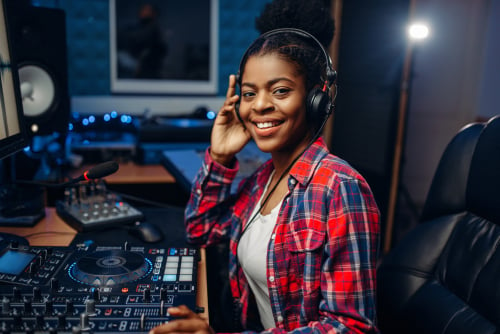 About
Sound Engineering
Entire industries depend on sound engineers, or audio engineers, to make motion pictures, record and perform music, create sound effects for video games and produce the evening news, among so much more. Sound engineers make this possible by understanding and managing the technologies that transmit sound electronically or digitally (as opposed to acoustically) — from mastering microphones and mixers to music sequencers and dynamic range compressors. Sound engineers are vital technical experts who enjoy a wide range of career possibilities and interesting job experiences across Canada and internationally.
Top-rated sound engineering courses will train students on state-of-the-art recording and editing equipment. They will expose students to live and studio sound; audio for film, television and new media; cutting-edge sound production software; and, critically, principles of audio theory and how sound reacts through the signal path.
Hands-on diploma programs usually require one year of full-time study, while multi-year degree programs available in film and music production are available at colleges and universities. Specialized courses are also available through these programs in everything from music theory and culture to studio recording techniques to music business administration and digital marketing.
Sound engineers come from a variety of backgrounds, including audio, music, fine arts and electrical engineering. In combination with college or university training, significant job experience will be required to excel in this field.
Common job titles for sound engineering graduates include: Recording Engineer; Producer; Mixer; Studio Technician and Mastering Engineer. In live sound and production: Front of House Mixer; System Technician; Theatre Sound Designer. In radio and broadcasting: Broadcaster; Broadcast Technician; Engineer. In post-production sound: Music Producer; Music Mixer; Music Editor; Foley Recordist; SFX Recordist; Sound Designer. In digital media and gaming: SFX or Dialogue Editor; Video Game Sound Designer; Video Game Producer.
The average salary of a sound engineer in Canada is $83,475 according to Talent.com.